Which startup is the best one for you?
One of the first things I did when I joined Accel last year was to put up a public link for anyone to set up a call with me. Honestly, I wasn't sure if it would be of any value to anyone and if I could take out the time for it.
Luckily, I did over 100 calls over weekends and late nights last year. These were folks from Schlumberger to Facebook and BCG to Goldman Sachs; some were fresh graduates. A common question I got asked is: 

(I assume that you want to join a startup too. If not, read the previous blog post on why joining a startup today could be your best decision today)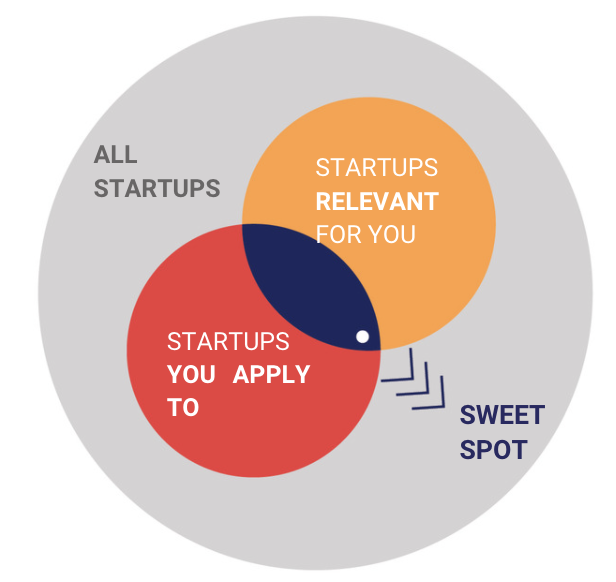 Every day, we hear about a new company raising funds, hiring a friend or crossing another milestone. Some have raised $2m, while some, $400m - how are they different and what fits you best?
Today, I'll share my perspectives on the different stages of startups, what that might mean for you as a potential employee AND how you can identify them :)
Putting it simply, a startup is typically in one of the following three buckets:

I'm diving deeper into each of these three categories below. There's a summary at the end, but if you're a newbie to the ecosystem, I'd recommend you read the full article.
Early-stage:
What does it look like:
A small team (mainly founders), spending time understanding what users want and experimenting to get the first few users. While they might hypothesise who their customers would be, the startup is yet to prove it.
What does it mean for you:
If you join an early-stage startup, your practical job description would be "do anything and everything" - while you might be in a specific role (say product or operations), do not expect that there will be many folks to support you. Shit needs to get done, and you will be held accountable. You will need to read extensively (to learn things) and/or network with people in the field to do things faster and better.
It could be suitable for you if:
You plan to startup soon - learning how to get things off the ground when nothing exists!
You are looking for high risk-high reward stint (ideal if you have experience in growth / established startups)
You're new to your professional career and have limited options currently :)
What might be tough to get here?
Career stability / pre-MBA credentials
Work-life balance (Vacations need planning and could have a few working days)
Experience in scaling to thousands/millions of users
How do you identify early-stage startups?
Typically teams of 10-15 people (max ~40-50)
Pre-funding / Seed / Series A
Only employees & immediate friends know about it

Growth stage:
What does it look like:
The team has identified the one thing that users love and are willing to pay for. The task for the company is now to solve for the unknowns and identify ways to expand this to more users (scale). 
If you're in tech, it could mean building architecture that can support exponential product growth; If you're in biz/product, it could mean setting up processes & reducing dependencies and/or finding ways of user acquisition/retention, etc. 
What does it mean for you:
If you join a startup like this one, your job description will be broadly clear - you will have good visibility on work for the coming months, but there is a high chance your main projects/work will keep changing every 4-6 months as "things are getting fixed". 

It could be suitable for you if:
You are looking for fast-track career growth with balanced risk-reward
You are looking to switch roles (e.g. tech/business to product)
You plan to start-up
Pre-MBA credentials (depends!)*
What might be tough to get here:
Work-life balance :) (You will get vacations but would get calls/disruptions)
End-to-end project ownership
How do you identify a growth-stage startup?
The team could be around ~50 people up to 500 people
Series B / Series C / Series D (typically pre-unicorn)
It will keep appearing in your feed because of mutual connects
Established stage:
What does it look like:
The team has already figured out the customers' products and acquisition strategies. Now the objective is to focus on (a) expanding the current product across the market, (b) building more products/verticals (c) becoming more efficient.
What does it mean for you:
If you join a startup like this one, you will have a challenging role that will be reasonably clear with mid-to-long term impact (improve X by 6% in the next nine months). You would be working on a relatively small portion of the entire business/product and would need to build deep knowledge and expertise on the product.
It could be suitable for you if:
You are looking for strong pre-MBA credentials
You are interested in long term stints & career development
You want better work-life balance - (Vacations typically don't get disrupted)

What might be tough to get here:
Control over entire projects/products
Speed of experimenting, shipping and delivery
How to build products from scratch when you don't have resources
How do you identify it?
The team would typically be 500+ people
Series D+/Public
Most people would have heard the startup's name, OR everyone in the industry would be aware of this upcoming leader
Here's a summary of many pages of notes about them.
Some further notes:
The practical outcome is not the best-case outcome; it's the median expectation. Your best case (esp. in early-stage) could be crazy good :)
In work-life balance, I'm drawing a parallel to vacations and not your daily working hours - in high chances, that's dependent on the company's culture.
Apart from the funding, other things should still be applicable for bootstrapped companies.
Pre-MBA credentials: This factor is also dependent on how the company is performing when you apply for MBAs!
I did not talk about two important things here - culture and pay. Here's why:
Company happiness/culture - is generally not a function of just scale, but other things - if you are interested to know more, let me know - I'll write another piece on this!
Pay - In today's market, companies are willing to pay exorbitantly, and very few people I know are being asked for a pay cut; it can be assumed that for the same skillset, equity component as % company reduces exponentially across these levels.
❤️ ❤️ ❤️ If you liked this article, do share it with your friends who might be interested in startup opportunities and don't forget to subscribe - In my next article, I will be discussing how to look for startup jobs.! ❤️ ❤️ ❤️