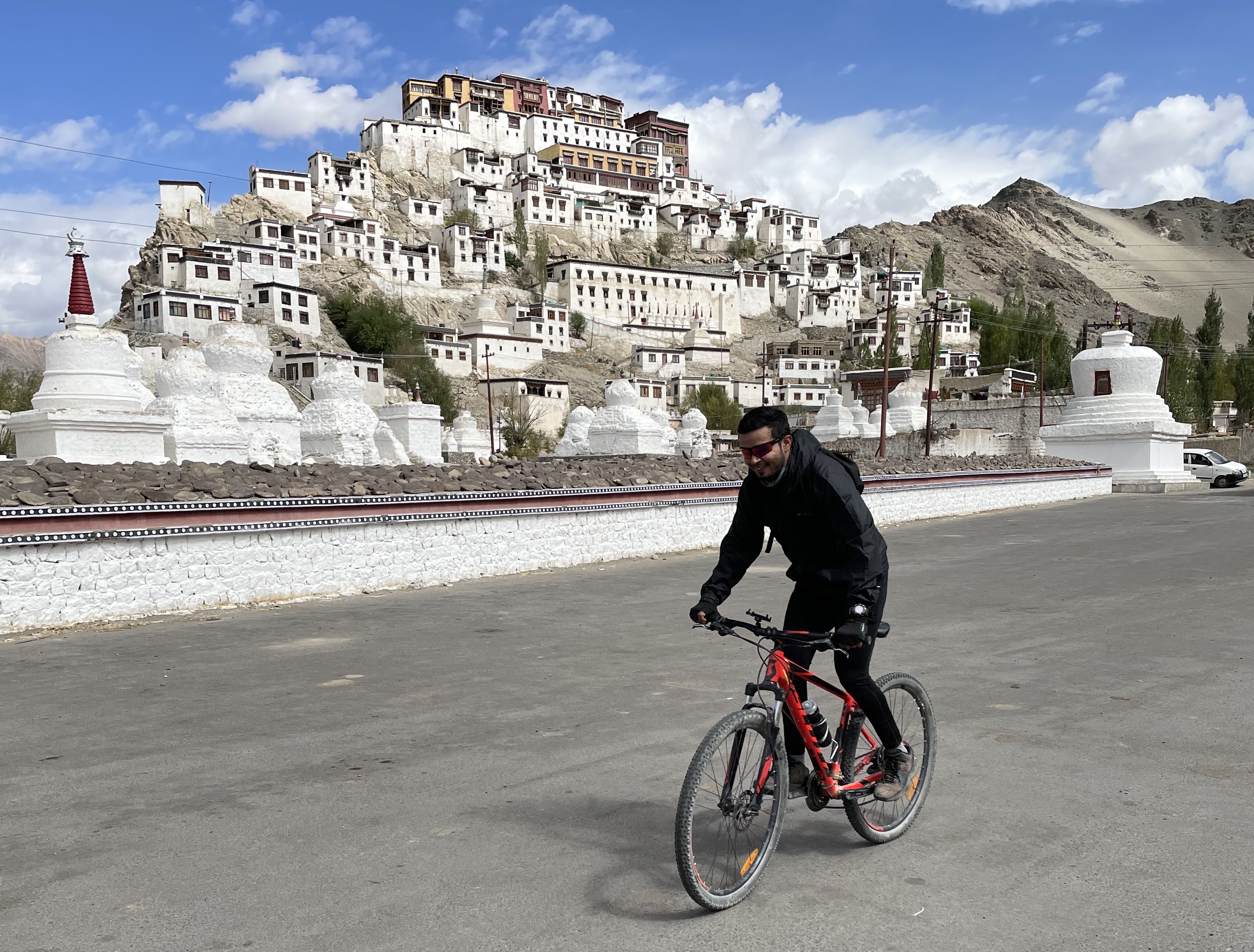 Testing My Limits: The Manali to Leh Cycling Expedition
Wiping sweat off my eyes, breathing heavily, I wondered to myself, "How did I land here?"
Looking back, I realize it was the toughest day of my life.
10 days of cycling, ~480 kms covered, and the next challenge? Riding from the beautiful city of Leh to Khardung La, which is as easy as climbing 3 Burj Khalifas 😏.
After over 7 hours of continuous cycling uphill today, I was out of breath and exhausted. At that height, there was barely any oxygen available for me to breathe. And if that wasn't enough, there was a cold wind blowing and the razor-sharp sun rays hitting our face. I needed every distraction in the world to be able to relax and continue on this torturous ride. Praanshu was doing alright and luckily for me, he was putting up with my drama.
Here's a video of what one of the umpteen breaks looked like:
After what felt like forever (30 minutes per my watch), we reached the highest point in the world  a vehicle can go. It was the most amazing feeling I've ever had, and probably ever will. 
It was not the view or the destination, but the realisation that we completed this journey, successfully (alive).
Nobody could have understood the excitement and the euphoria we were in - they had all driven up in their cars / motorcycles, trading  the sounds of the mountains for the grrr grrr of their motors. Had someone told me 2 months ago that I'd be standing here, I would have laughed in their face. 
But here we were. :)
Praanshu, me and our cycles!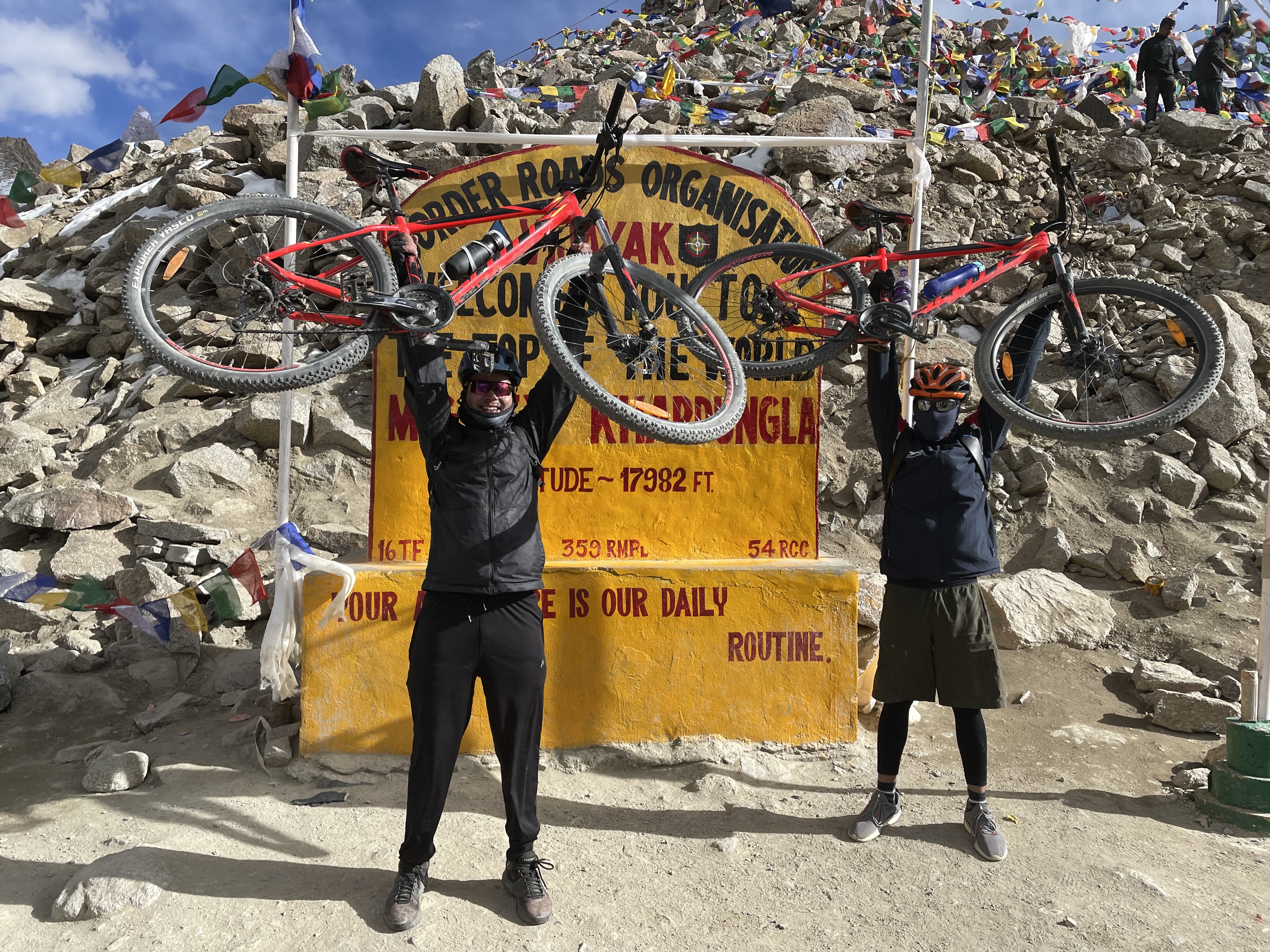 So, what happened in the 10 days before this? Let's rewind a bit.

The Back Story
It was August 2021 and we had rejected at least 5 vacation plans because they weren't exciting enough for us.. One afternoon, we came across a trip that piqued our curiosity and 8 minutes later, we knew where our next trip was going to be.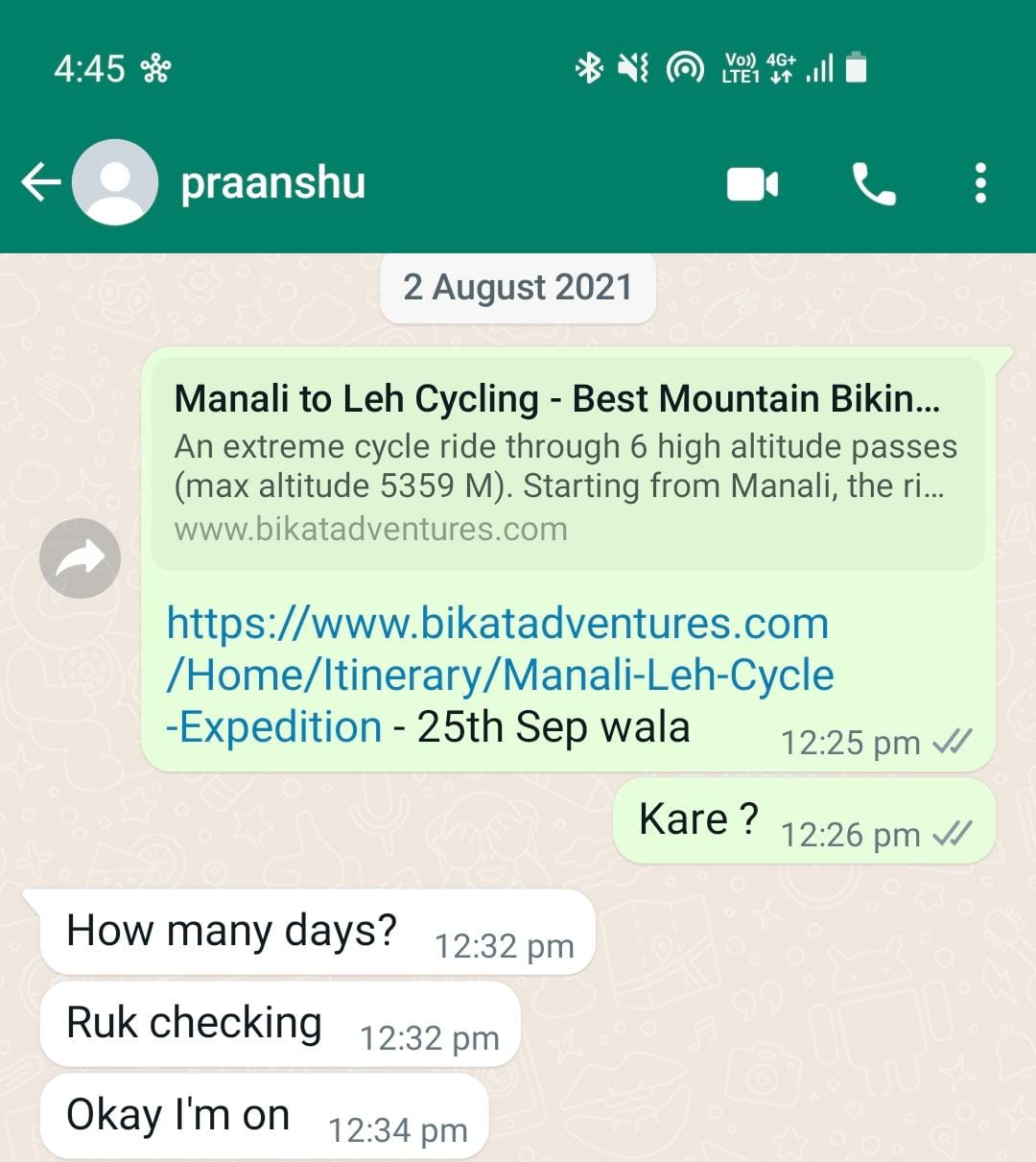 Oh, by the way, I didn't know how to ride a bicycle. 😶
Of course, that nagging voice in my head kept repeating that I'll never be able to do it. But instead of giving up, I decided to spend a few weeks practicing cycling in the city, building my rhythm - but The Bangalore Guy (below) had no idea what he was in for!!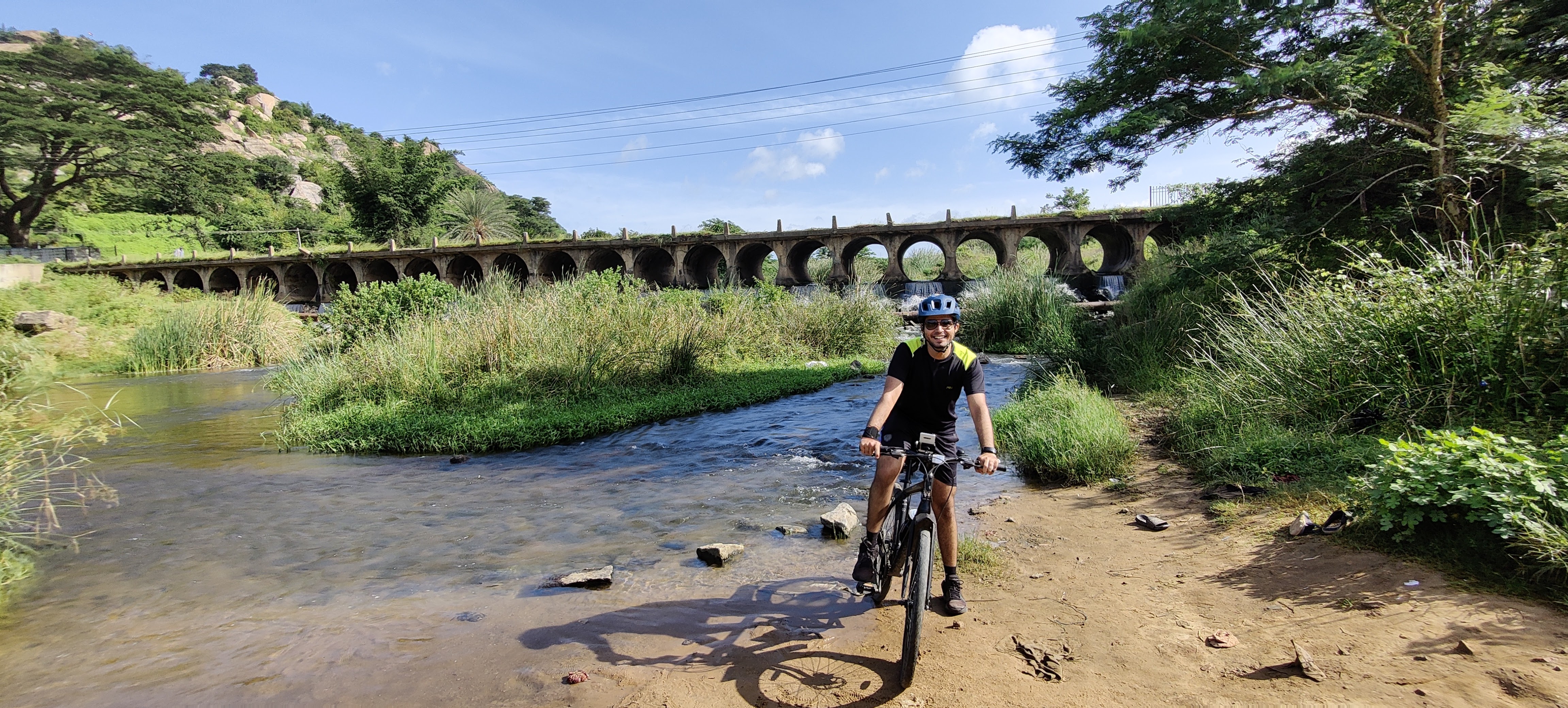 The Journey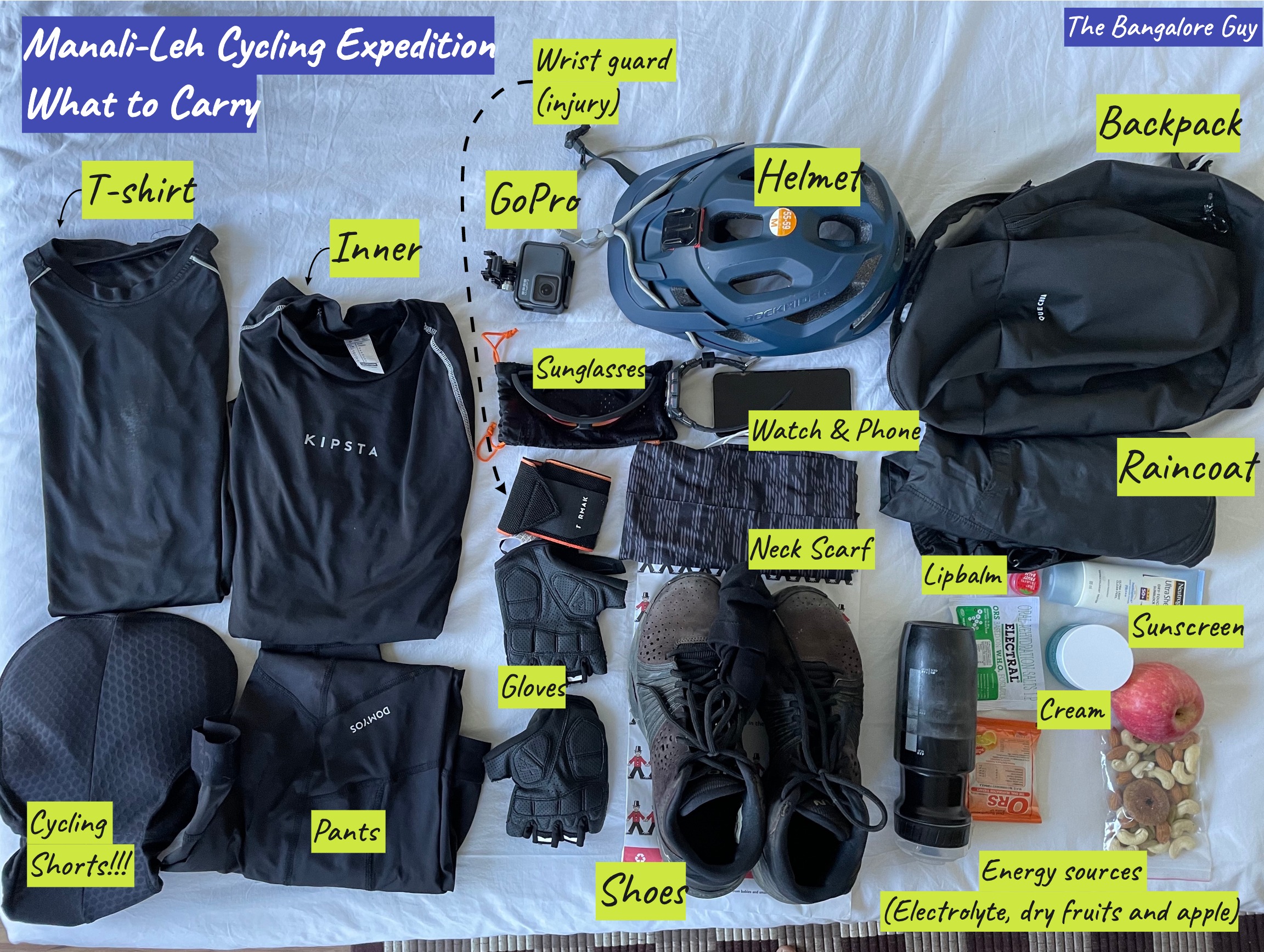 On the 24th of September, we reached Manali - I was all prepared for the ride 🤓. But right when I had least expected it, I got shocking news! Our guide tells me that earphones aren't allowed during the rides for safety reasons, but my entire rhythm in Bangalore was built on the beats of music (I love this playlist) that kept me pumped up. The rule totally made sense since we were riding on the highway, but I didn't see it coming and was upset.
I had my stomach in knots, but told myself that I had no choice but to go with it now. 🤞
Leaving from Manali
All pumped up, on 26th September, we depart from Manali.
(Tap or scroll over images to see the caption)
As we started, it was crowded with people and vehicles but soon, the  people disappeared and it started giving way to some beautiful valleys - lush green, streaks of waterfalls, and the smell of fresh grass in the wind.
After finishing 20kms of a ride, we were told that we would be climbing for another 20kms to a point called Marhi - we slowed down a bit, but the energy was high and we never stopped. 
The landscape continued to blow our minds.
Here's what our campsite looked like!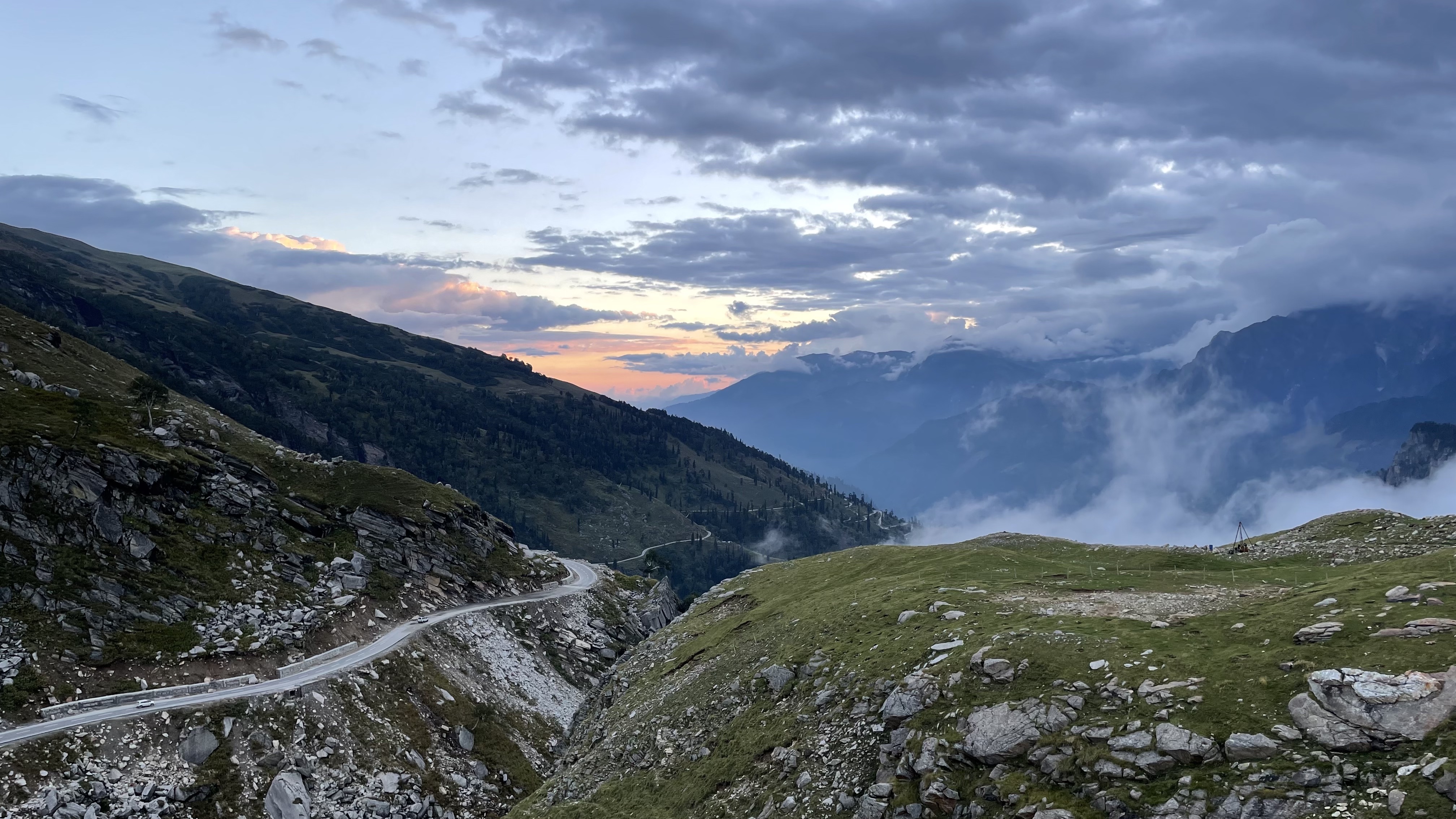 Rohtang La - The Valley of Death 
On the 2nd day of our ride, the plan was to climb to Rohtang La and then descend into the Lahaul & Spiti Valley. The road to Rohtang Pass shuts down after snowfall (Nov/Dec) and becomes very dangerous for crossing - hence the name the "Valley of death".
It was also the first time I was visiting a mountain pass and I was slightly disappointed when I reached the top. You know why? Because unlike the silent place I expected it to be, it was bustling with tourists' cars and Maggi stalls - that's when my guide told me that it's the most popular mountain pass in India. (have you heard of it?)  

Trivia: As Praanshu defines it, a mountain pass is apoint where you cross from one mountain range into another. In the case of Rohtang La, we were going from the Kullu Valley to the Lahaul Valley. Also, "La" means pass, so you either call it Rohtang La or Rohtang Pass - don't call it Rohtang La Pass.! 😉
The Lahaul Valley - A Bunch of Friendly Looking Mountains 
For the next couple of days, we crossed the Lahaul Valley, absorbing its beauty slowly. Remember,  we were on a cycle and unlike a motorbike or car, we have limitations to our speed, especially when climbing up the mountains!!
Passing through patches of vegetation and villages (Sissu, Jispa, Keylong), we were gaining height and nearing the tree line. The valleys got broader, the greenery started reducing and the weather was getting cooler.
I

f you are planning a vacation in the mountains (by car/motorcycle, of course), check out "JISPA", "SISSU", "KEYLONG". These are great places to camp or chill.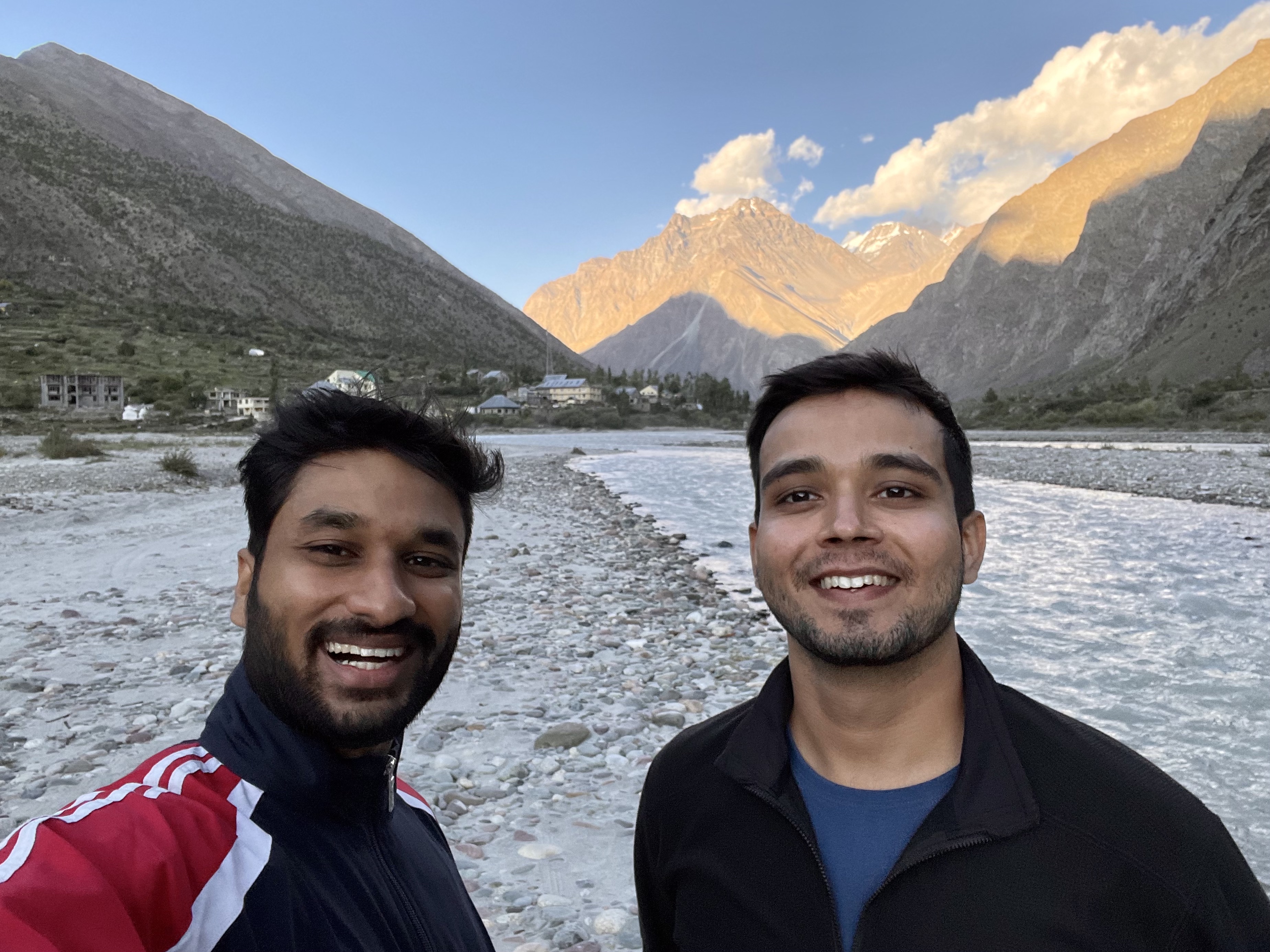 Trivia: As the mountain altitude increases, the amount of oxygen in the air reduces. Due to this, trees on mountains start reducing and eventually there are no trees after a point. This point is called the treeline!
Zing Zing Bar - The Optical Illusion and a Delayed Gratification
On the 4th day, our campsite was called Zing Zing Bar. It was an uphill climb for most parts of the ride. But reaching there took longer than we expected - the roads were an optical illusion - it looked like we were going down the hill but we were indeed climbing up. Crazy, right?
The terrain got rough and the conditions started getting harsh. Internet and telephone connectivity was non-existent. The electricity was generated only through solar batteries.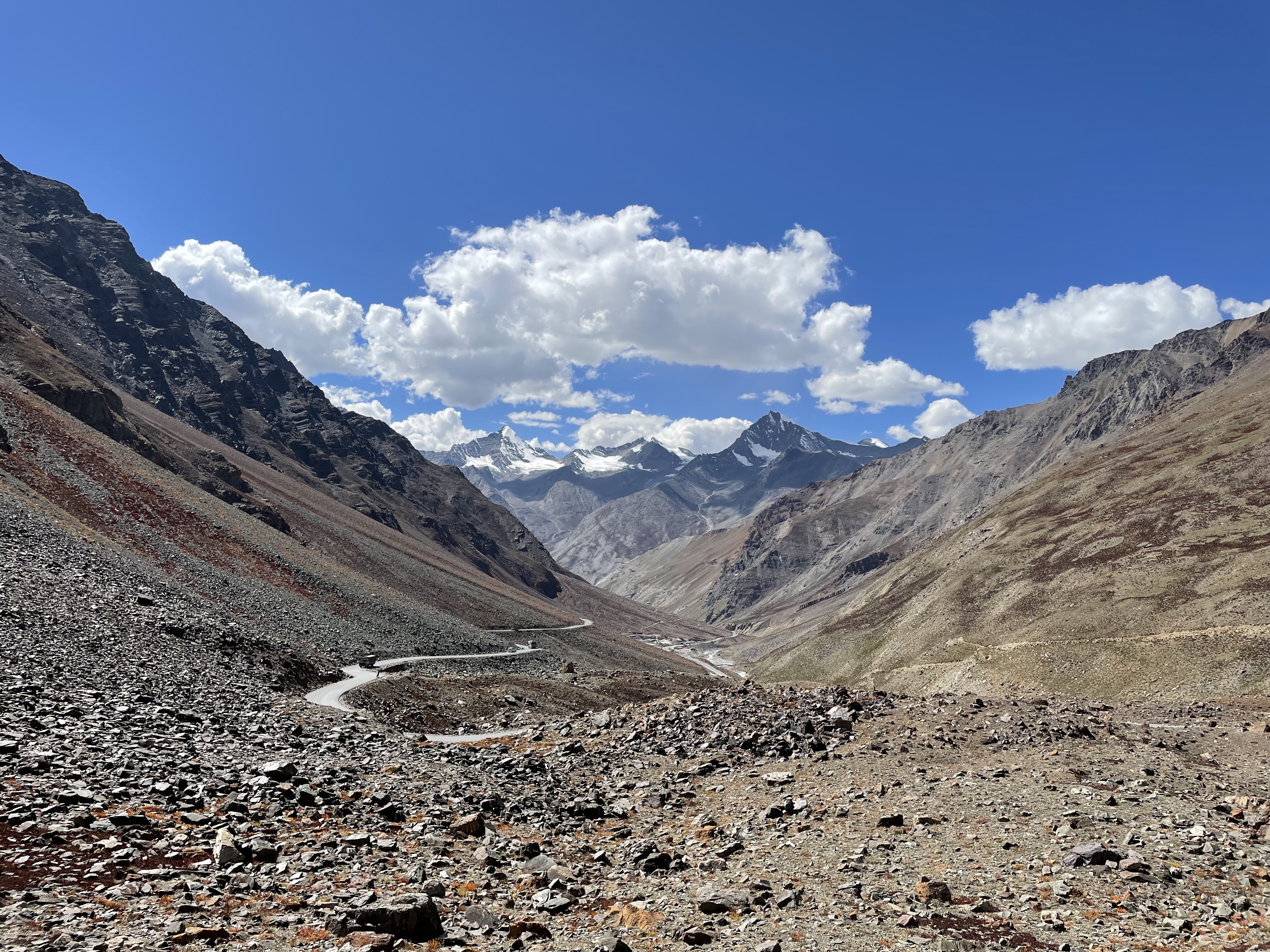 We had left civilisation, officially. 
Trivia: Some of our campsites are important landmarks in the mountains, given their access to water, roads as well as safety from harsh winds during the night time. Army folk typically give names to places. Some other interesting places (with funny names) we crossed include Whiskey Nala and Brandy Nala.  
Baralacha La - The Guardian of the Mountains
As we left Zing Zing bar the next morning, it was the 5th day of cycling - we were climbing the 2nd pass of our trip - Baralacha La. We crossed through a beautiful lake and multiple mountain ranges.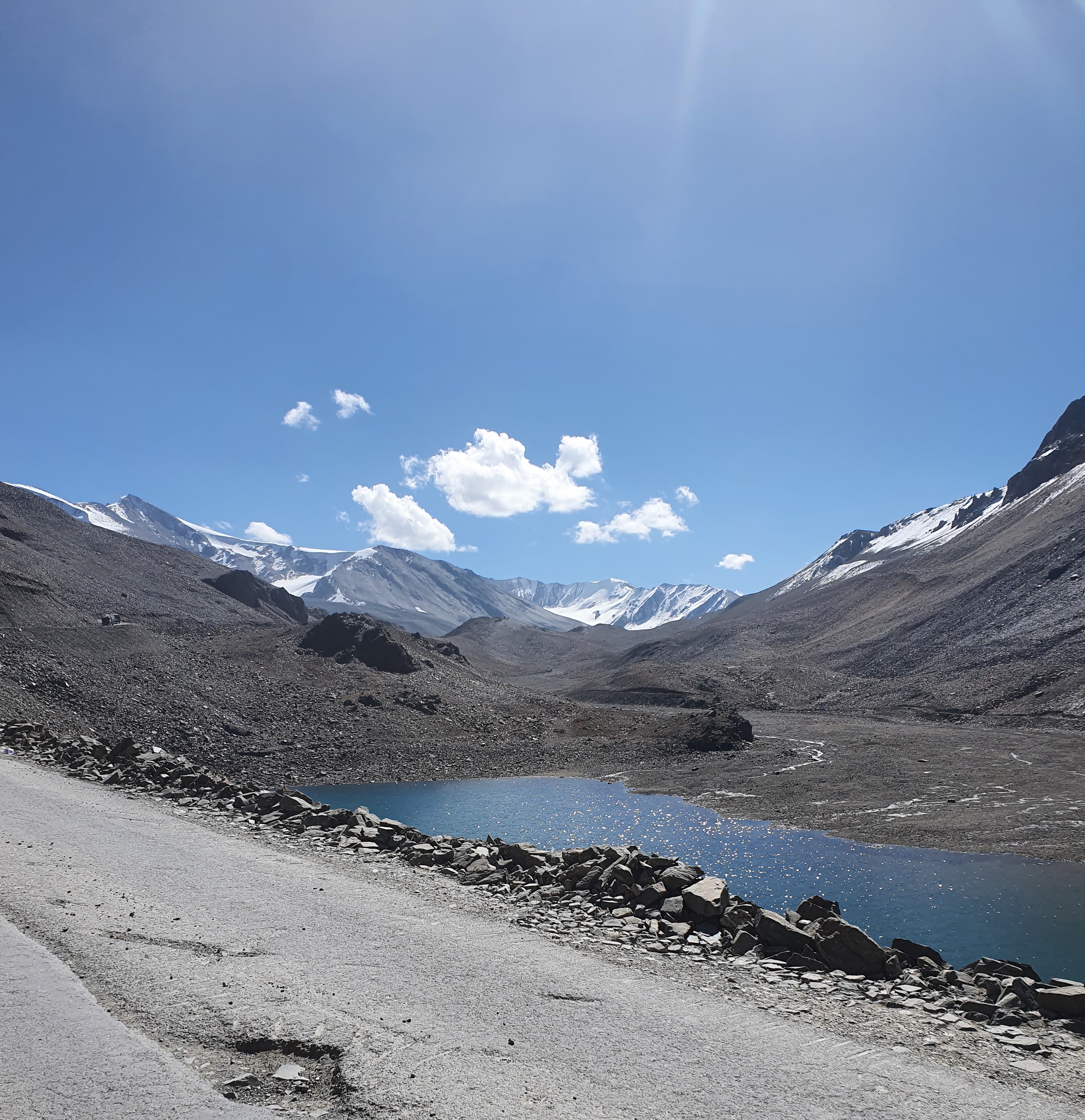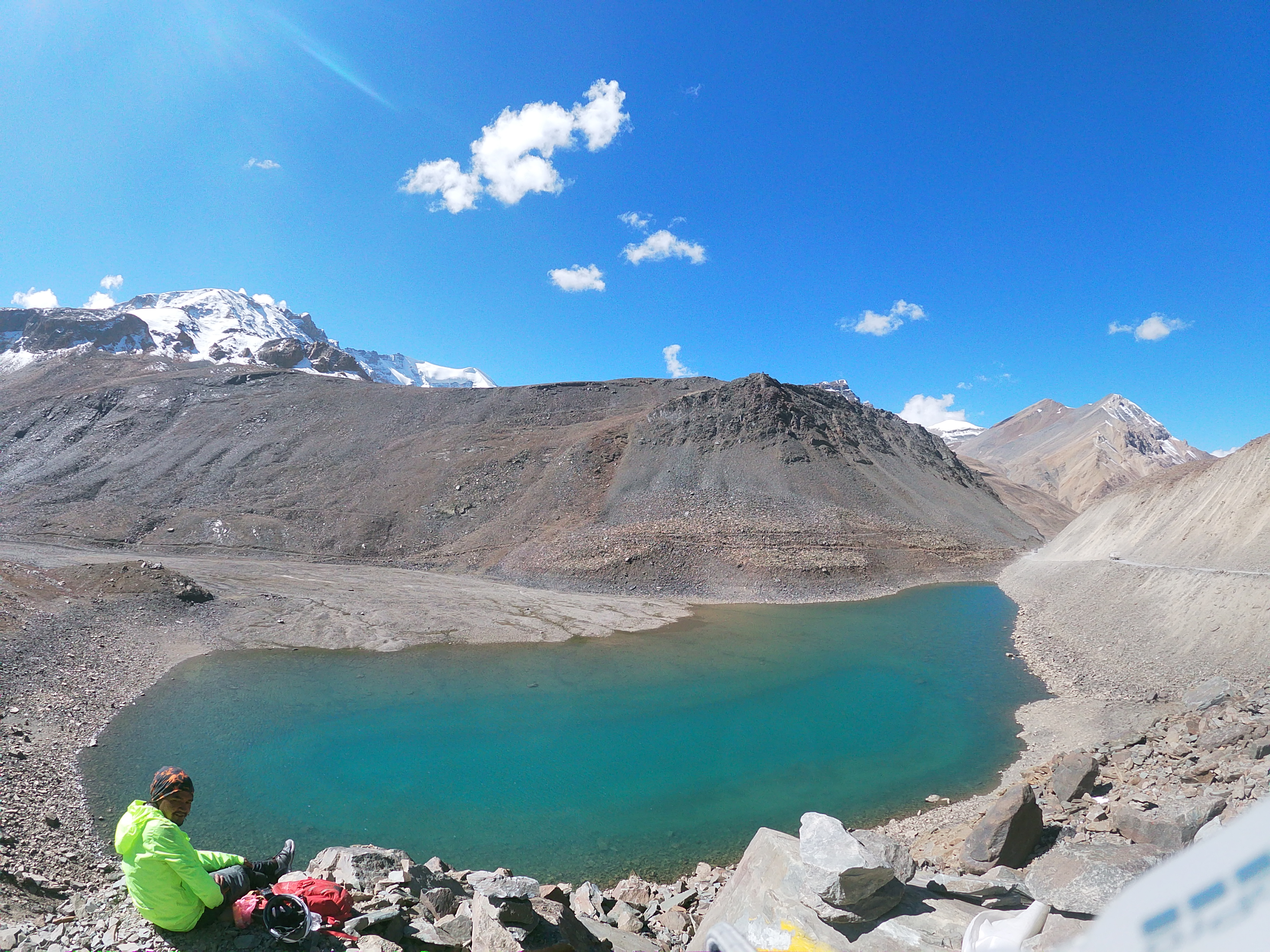 While Rohtang felt like we were leaving commercial tourism behind, crossing through Baralacha La felt like we were entering a pristine area where humans don't have a stay or a say.
It was clear to us now that we were on our own and while it was an unknown territory, the adrenaline rushed through our veins. The mountains were changing colours every day and we were excited to see what's coming next!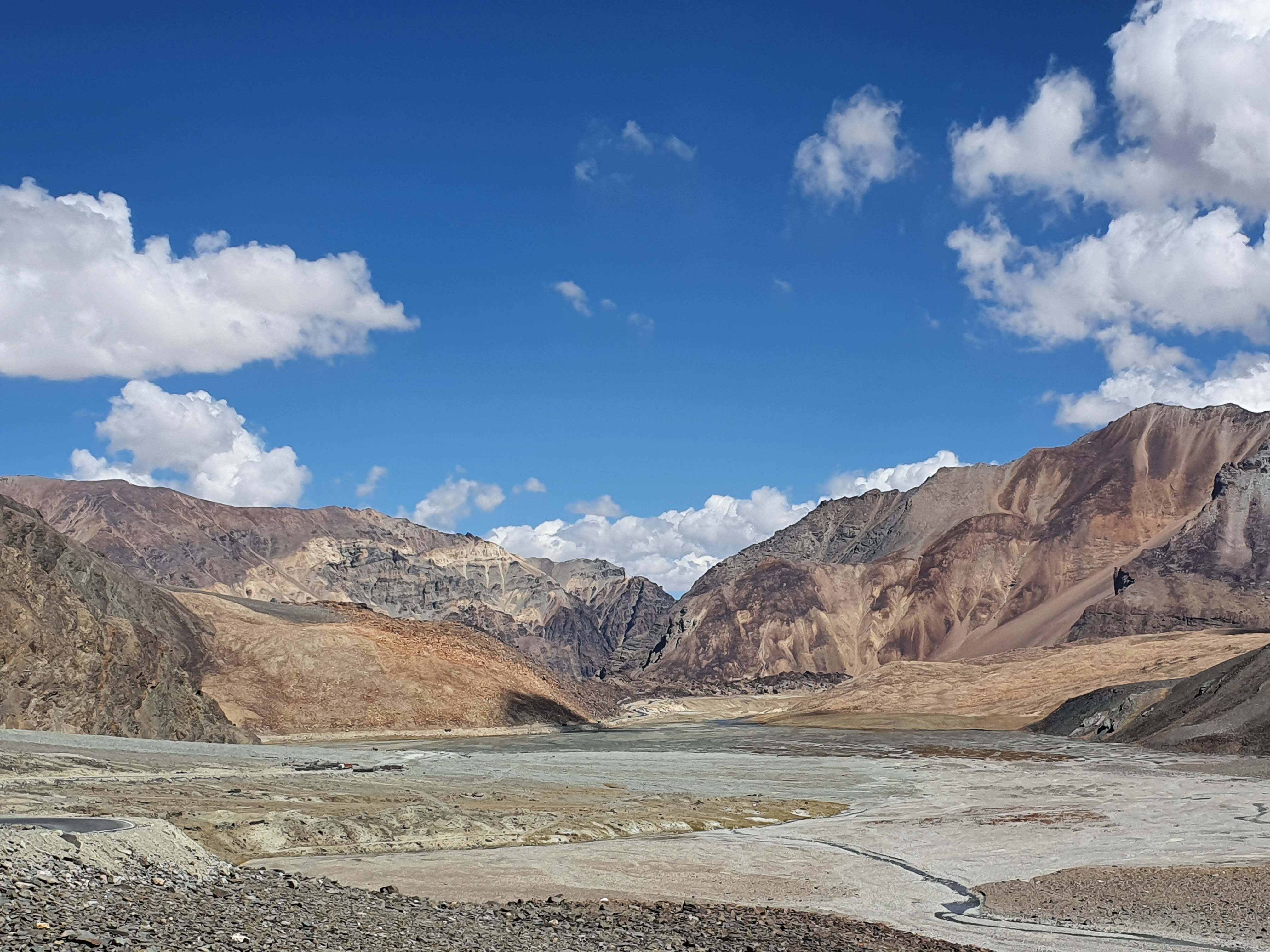 En-route Sarachu - Death by a Thousand Cuts
Climbing down from Baralacha La to our campsite "Sarachu", the next couple of hours were scary.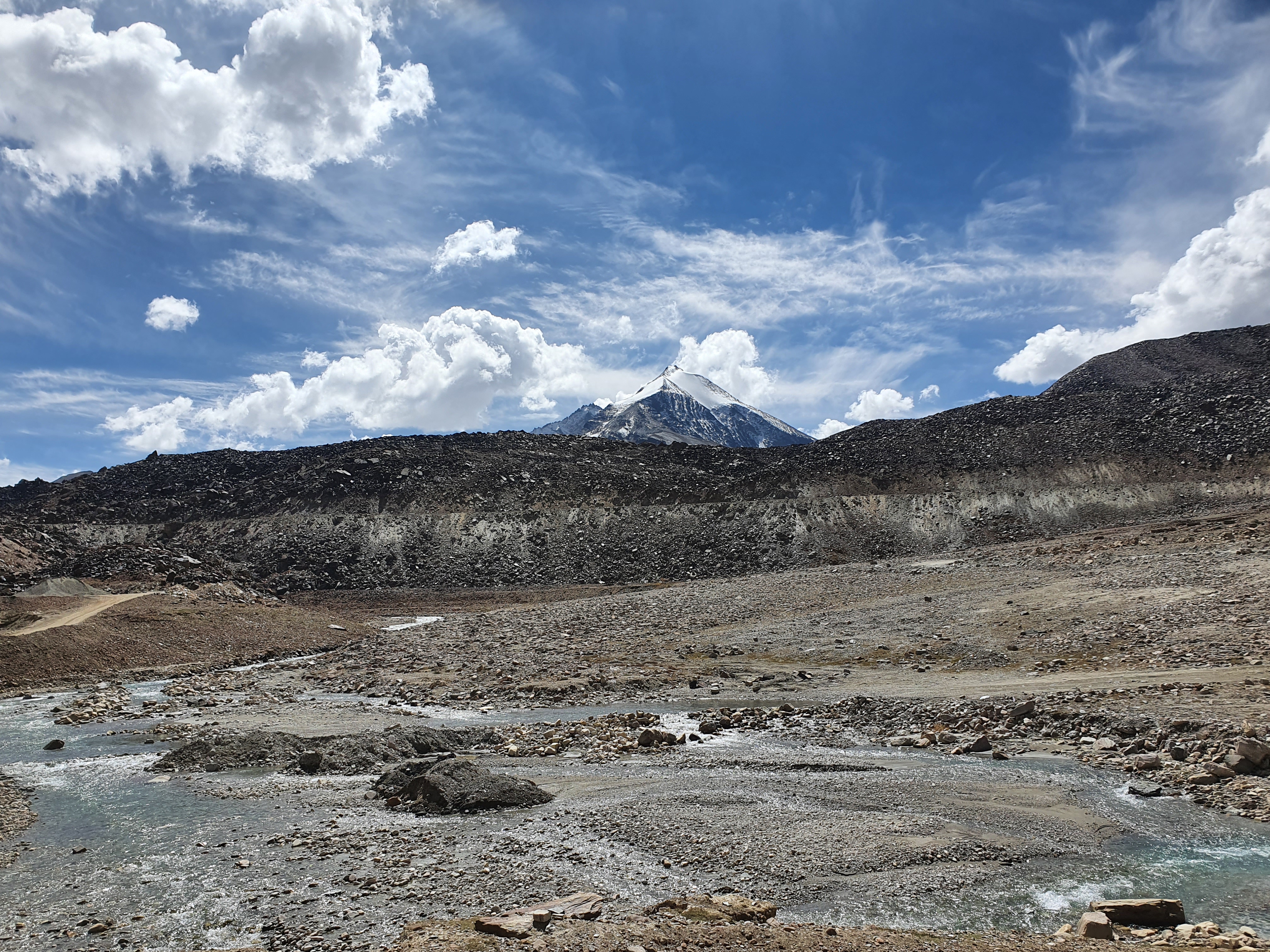 The terrain was rough, the roads patchy, and the mountains made of small, yet sharp roads and sand. "Death by a thousand cuts", I muttered to myself as I pictured what would happen if I slipped down any of these mountains.
While the tough part of the ride (climbing to the pass) was over, this one felt dreadful and I had to remind myself to be careful at every pedal.
After this rough patch was crossed, we hit the flat plains of Sarachu. Flat grasslands with gorgeous mountains surrounding it, the beauty of this place was breathtaking.
Gata Loops - A Conversation With Self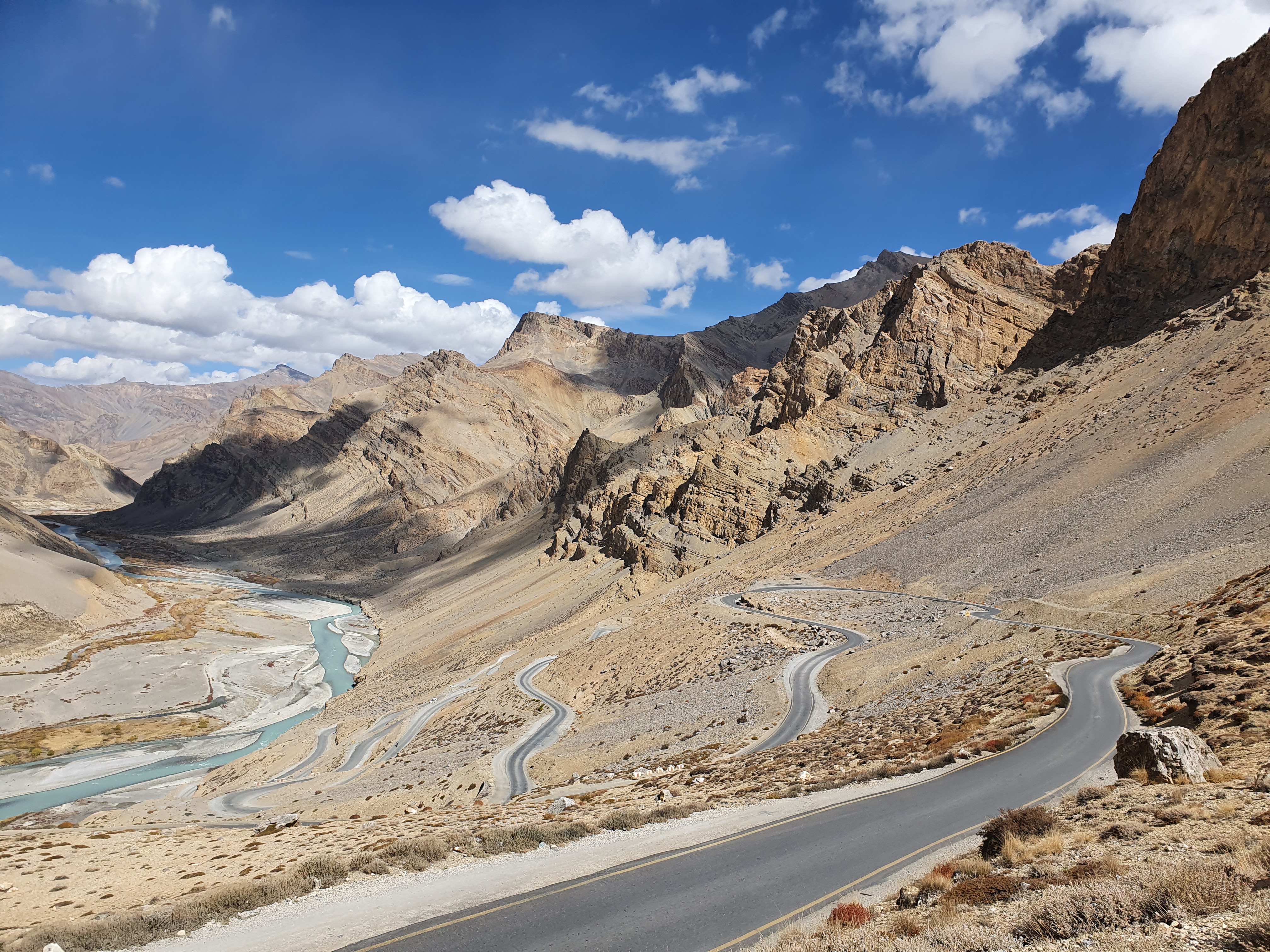 The next day, we crossed 21 loops in a stretch of 11 kms to climb up a mountain. Each loop felt like hours  and being on a cycle meant each of us were riding at our own pace - and not necessarily alongside each other. It was a solo ride and I took those 2 hours to go down the memory lane and think of all the people I was grateful for having in my life.
With every breath of air that I took in, I would think of a memory with a special person in my life.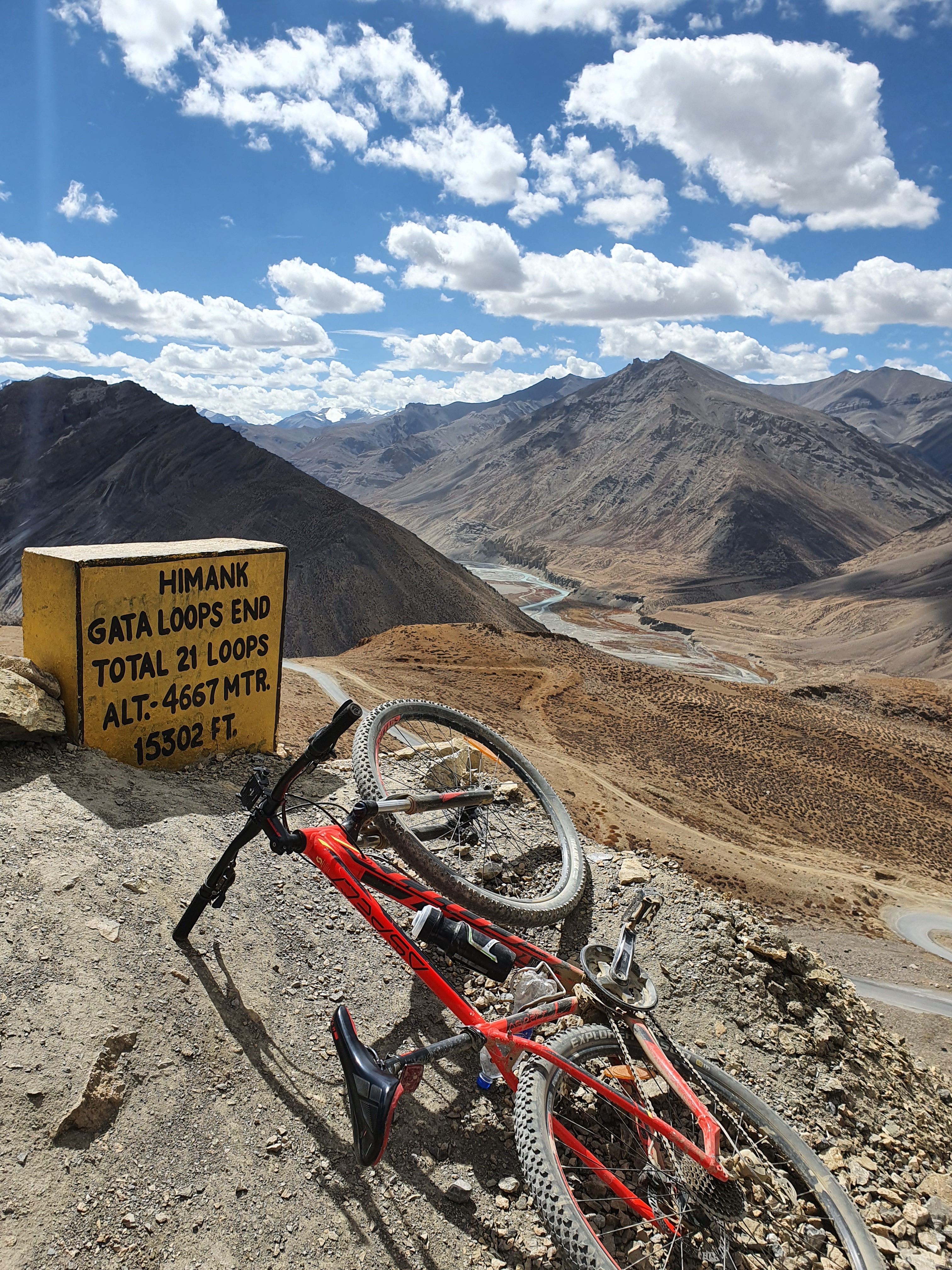 Trivia: A loop or hairpin bend is a ~180° u-turn that's carved in steep mountains to climb up/down in a smoother fashion.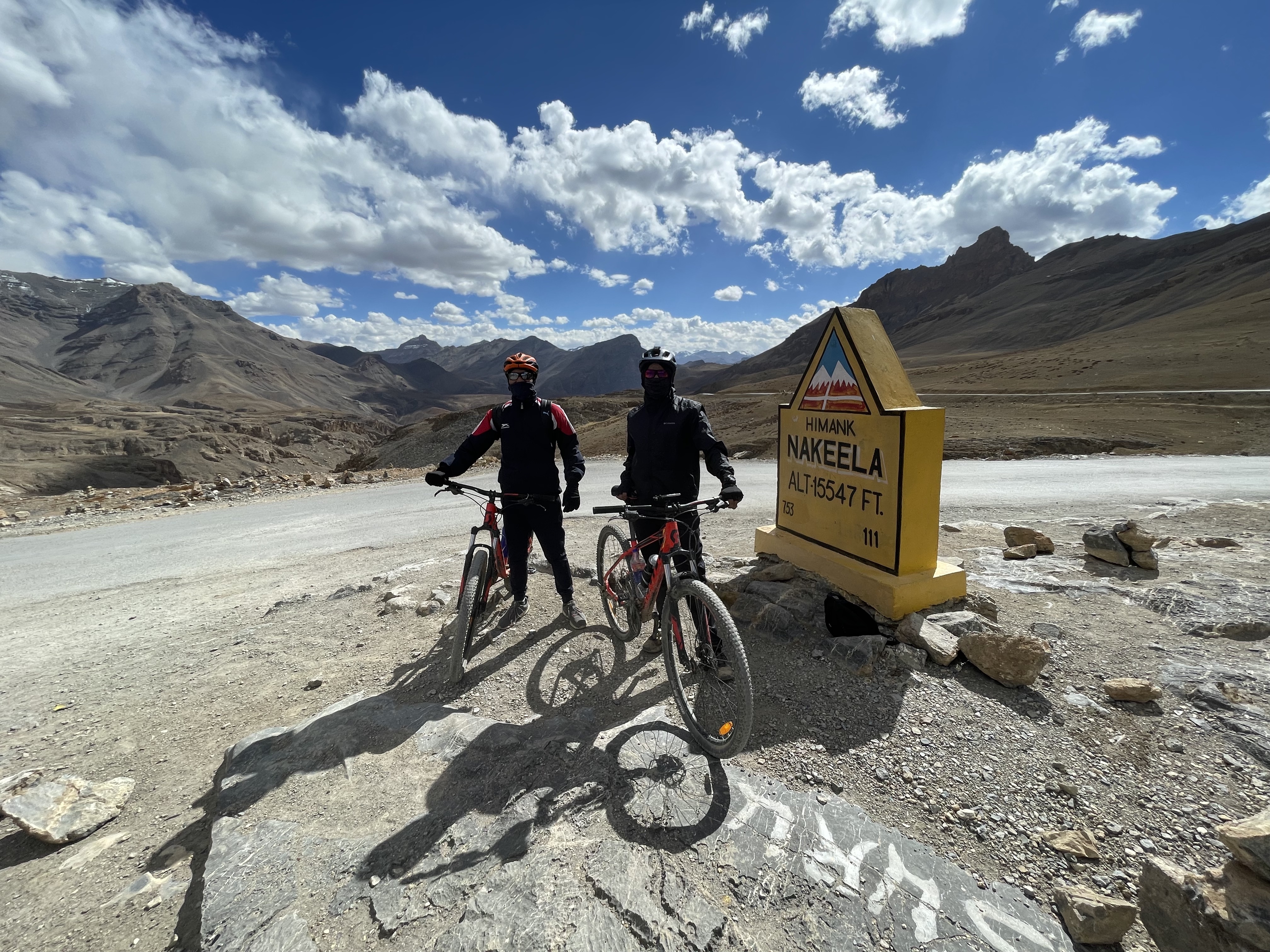 Cruising through these mountain ranges, we crossed another pass. You'd think that the passes would begin to feel like a regular thing Well, not really... The terrain changed every day, so did the wind and the smell of the mountains.

The colours of the terrain changed again.

The colours and shades of the mountain never stopped surprising us.
Our stay tonight was in a tent in the valley which was (in)famously known as Whisky Nala. Yep, it's the one I told you about earlier. 
Lachung La and the Desert of Ladakh
Yes, yet another pass! Today, the climb for the pass was just about 7 kms but the height that we achieved (16616 ft) was yet another record for us. 
Also, kid you not - the terrain we were seeing had completely transformed by now. We were now experiencing the cold and dry desert of Ladakh. Mountains are made of fine sand, vegetation and water were nowhere to be seen.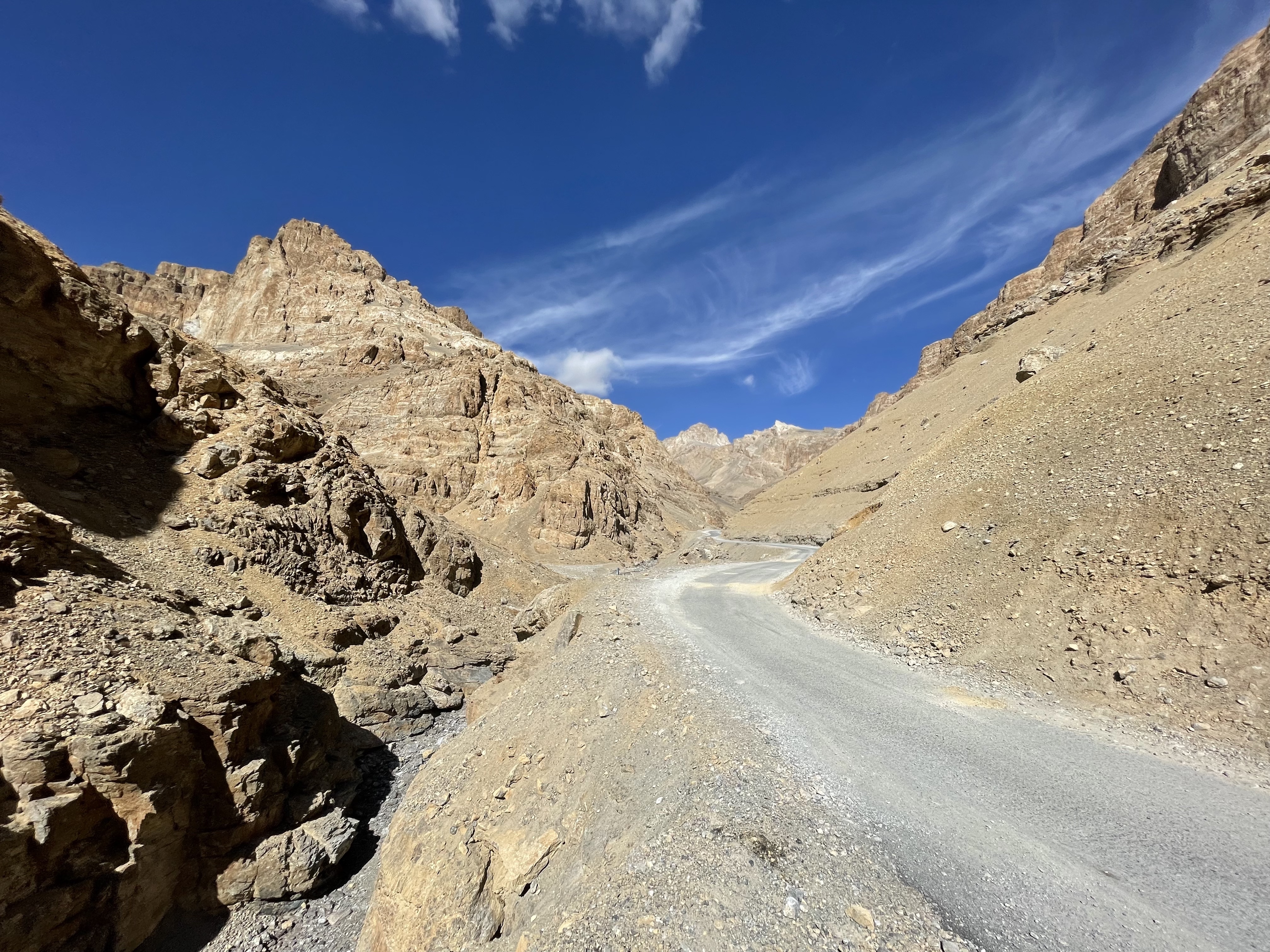 Morey Plains - An Architectural Marvel by the Creator
Descending from Lachung La and crossing the desert, we had a surprise waiting for us. 
We were aware that a 40kms stretch of flatlands called the Morey Plains needs to be crossed today. What we didn't know was how hard it would hit us.
We crossed an army campsite (Pang) and then climbed 5kms on a mountain. On reaching the top of that mountain, the road takes a sharp left. Now, the view in front of me (after climbing a hill and reaching the top), was a flat straight land with mountains on both sides. It felt like entering another dimension in the universe.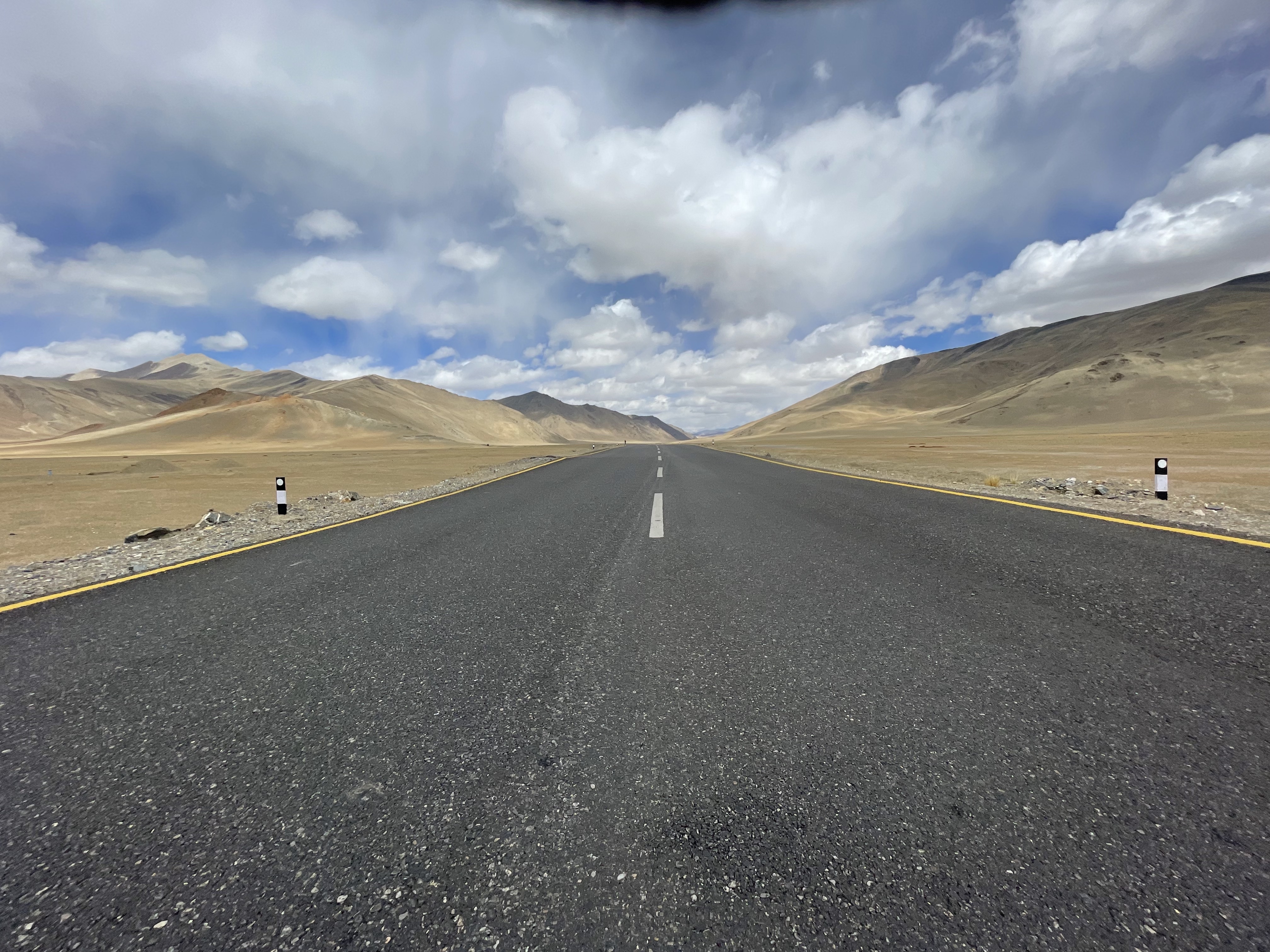 The flatlands were mesmerising and we just couldn't take our eyes off of them!
Debring and the Sandstorm
After crossing the flatlands, we decided to camp in a place called Debring. The "village" had a total of 3 houses and only 2 were occupied.
While we could have set up our tents there, with the sandstorm that had taken over the place, it seemed impossible for tents to survive. We decided to stay the night with the residents of the village.
TangLang La - When You Start Talking to the Mountains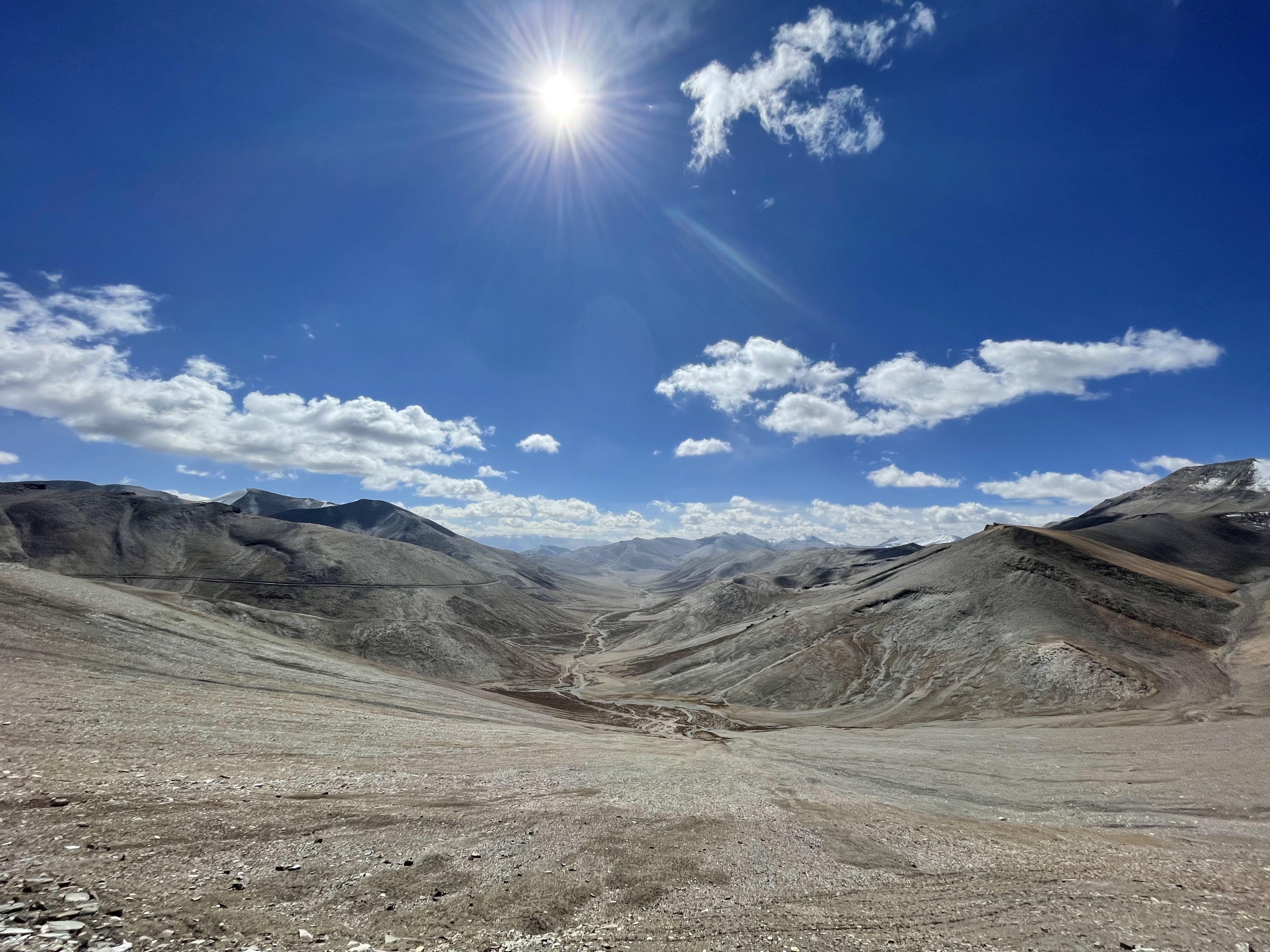 After a tiring day, when we would sit inside the tent and reminisce about our day, we would ask each other how our day went - we would discuss the toughest parts of the ride. Praanshu would always ask, "Did you talk to the mountains? Time flies when you do that". 
It stuck with me.
This was the 8th day - it was a cold and slow ride. Riding alone, as it was getting tough and monotonous, I started talking to the mountains - talking to it about my life - complaining to it about the things I was angry about and expressing gratitude for all the things I was loving. It started talking back (no kidding 😂) and I thought I might find answers. But then, in no time, I was at the peak.  Praanshu was right, time flies when you  start talking to the mountains.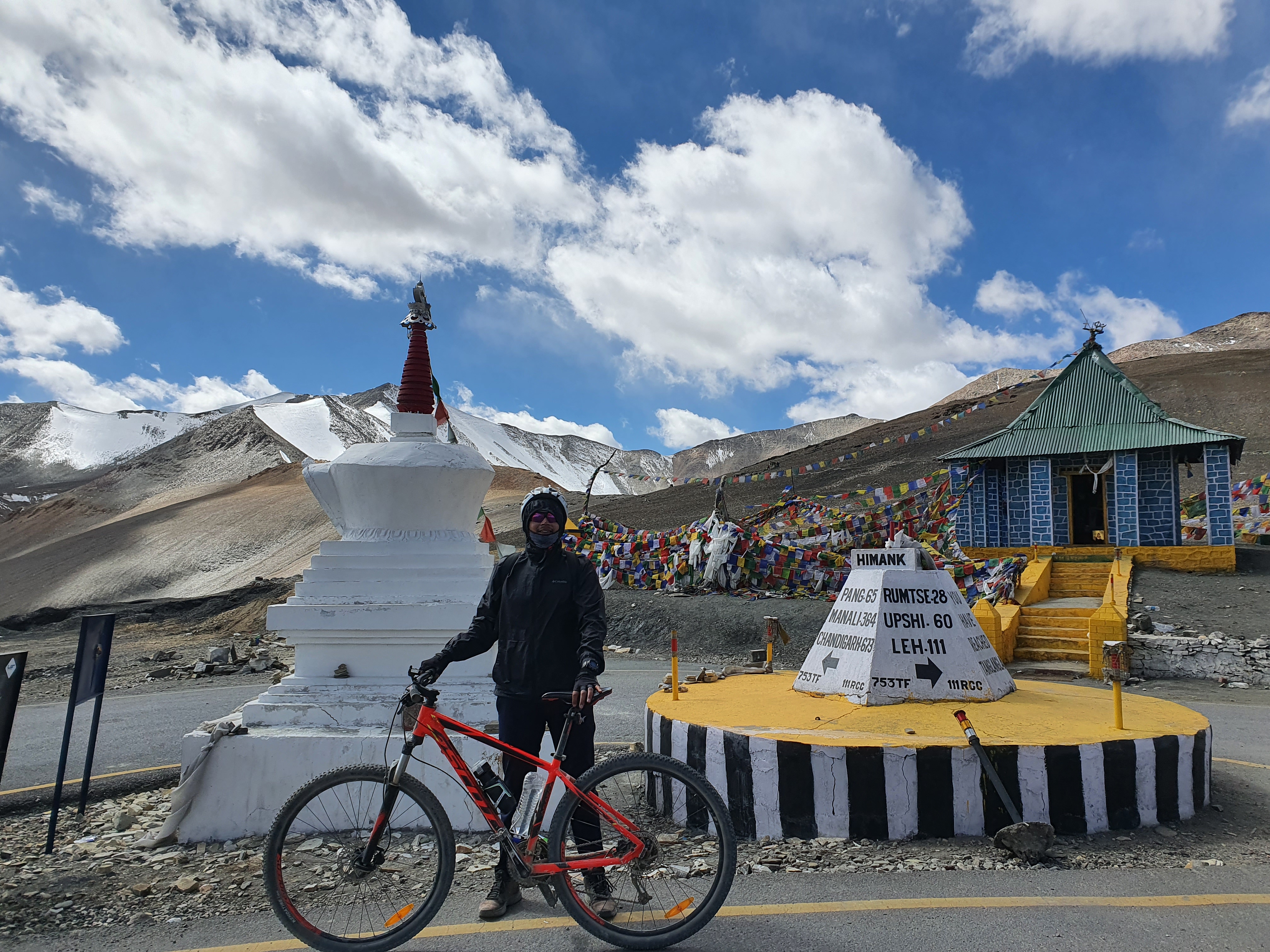 Crossing Tanglang La and going downhill, we were now headed back into civilisation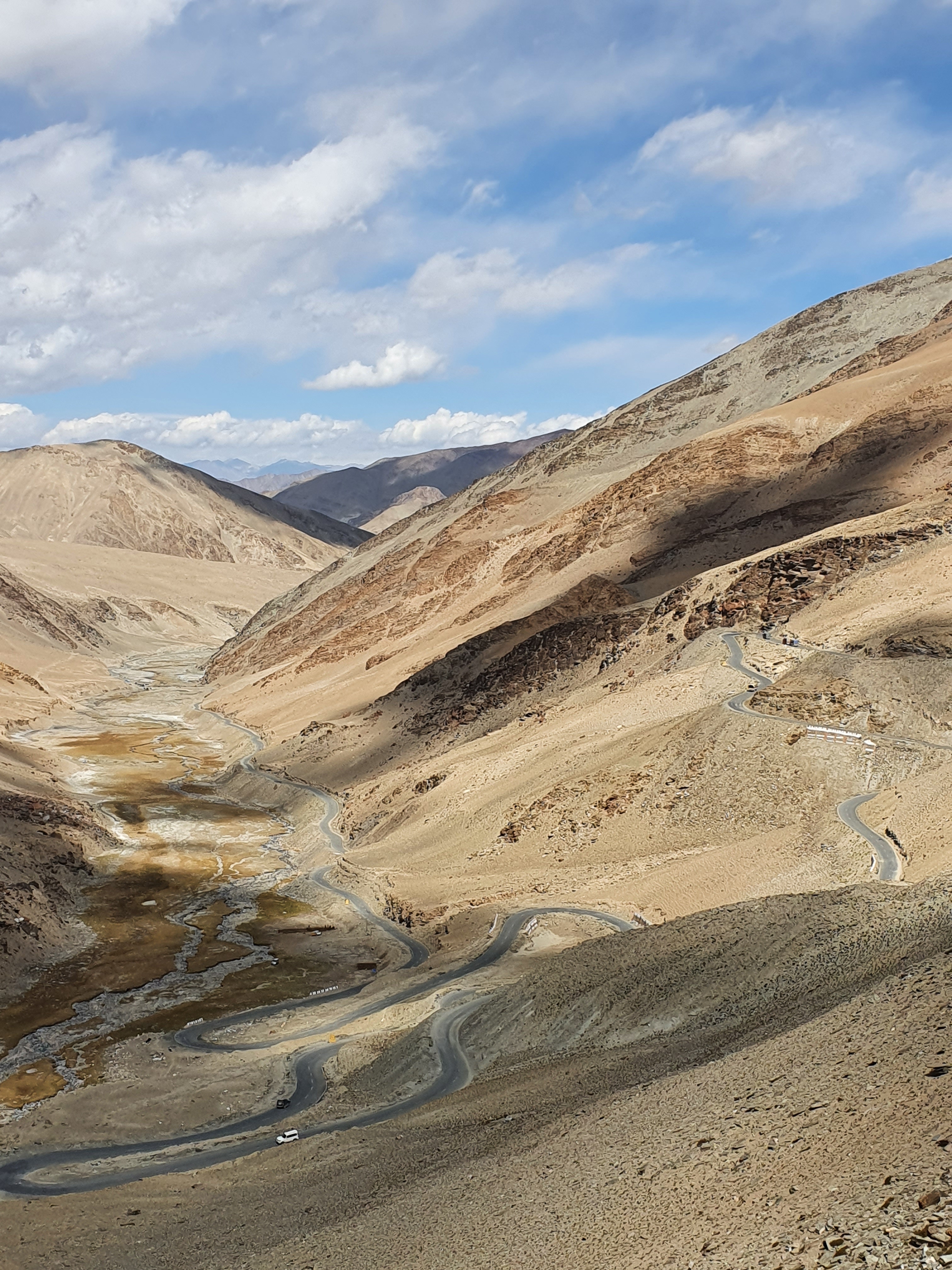 The People & Valleys of Ladakh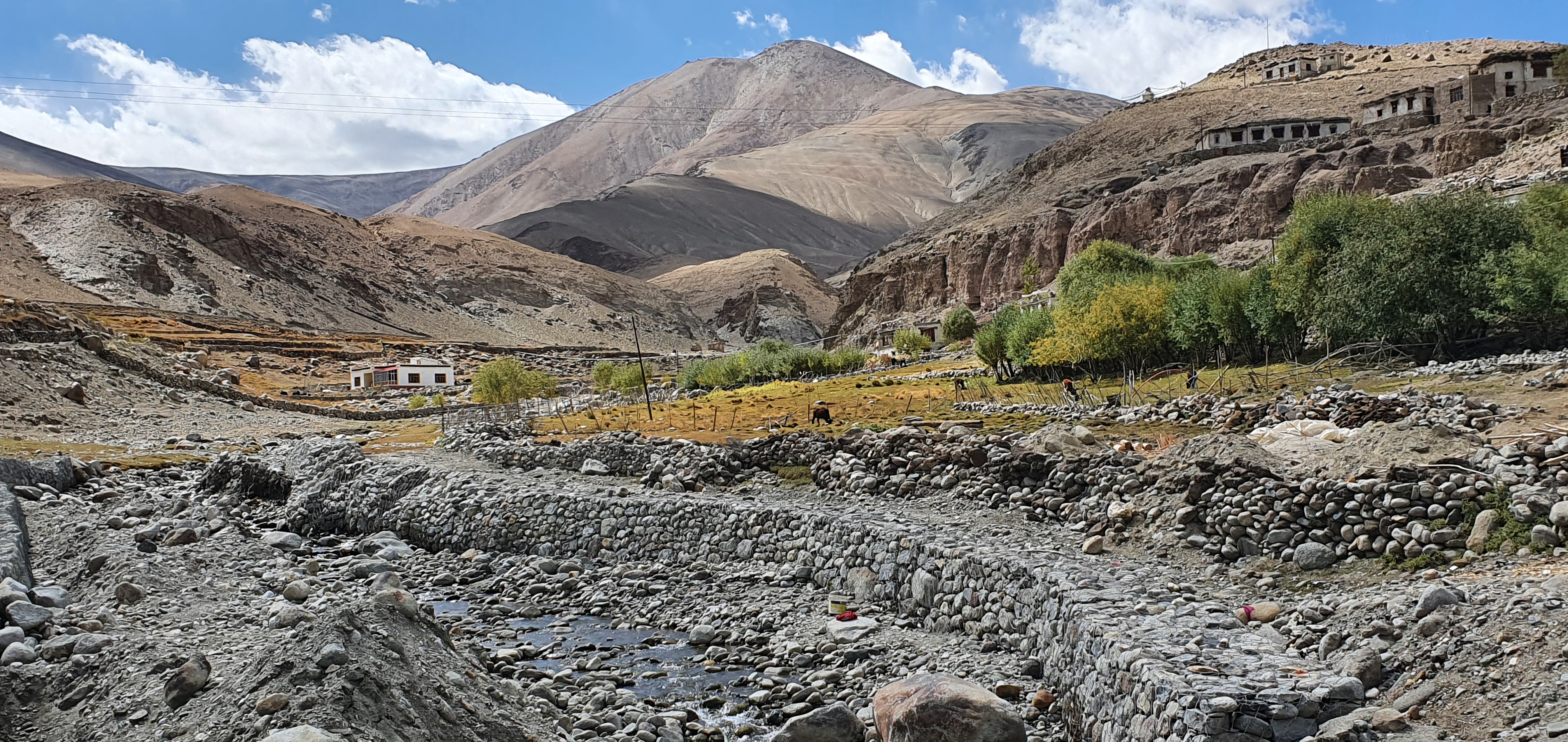 Now we were starting to cross Ladakhi villages. The terrain and landscape changed drastically - it was such a warm and welcoming vibe when we started crossing the villages, but at the same time, it reminded us about how hard a typical day for the local folks is!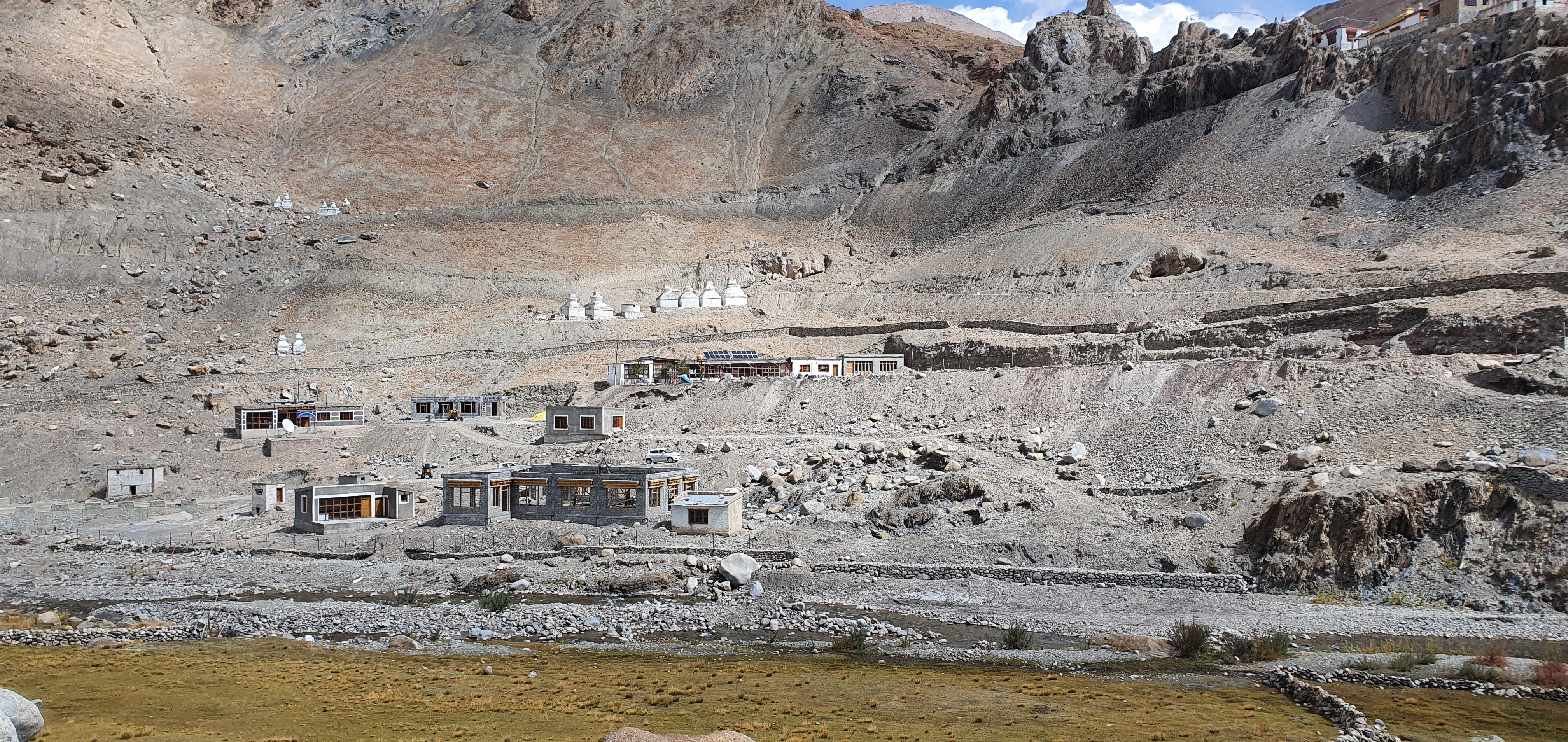 Building structures in this terrain is an uphill task (quite literally) and it's amazing how beautiful some of their architecture is!
As we cruised closer to Leh city, the terrain only became more beautiful with every step we took.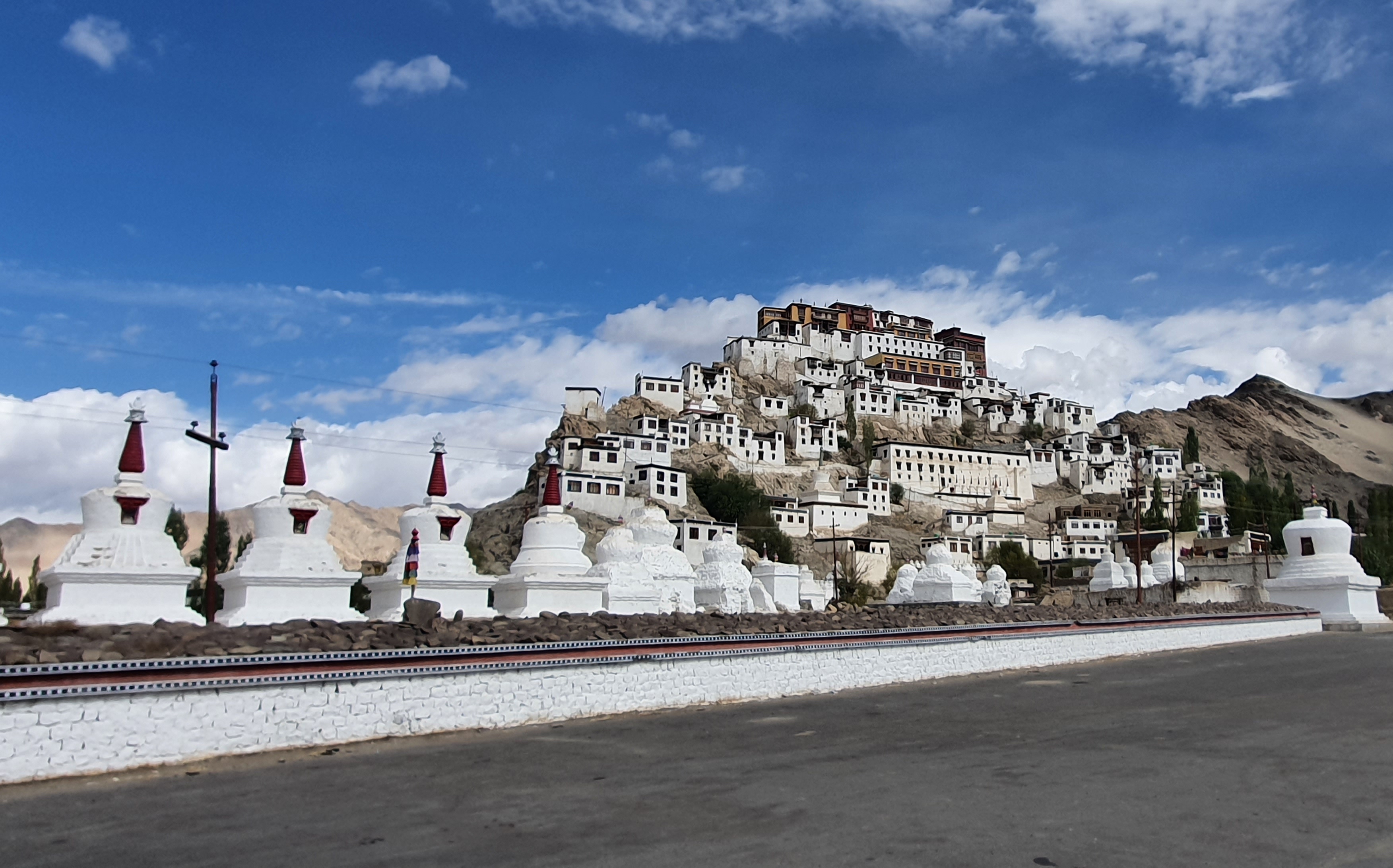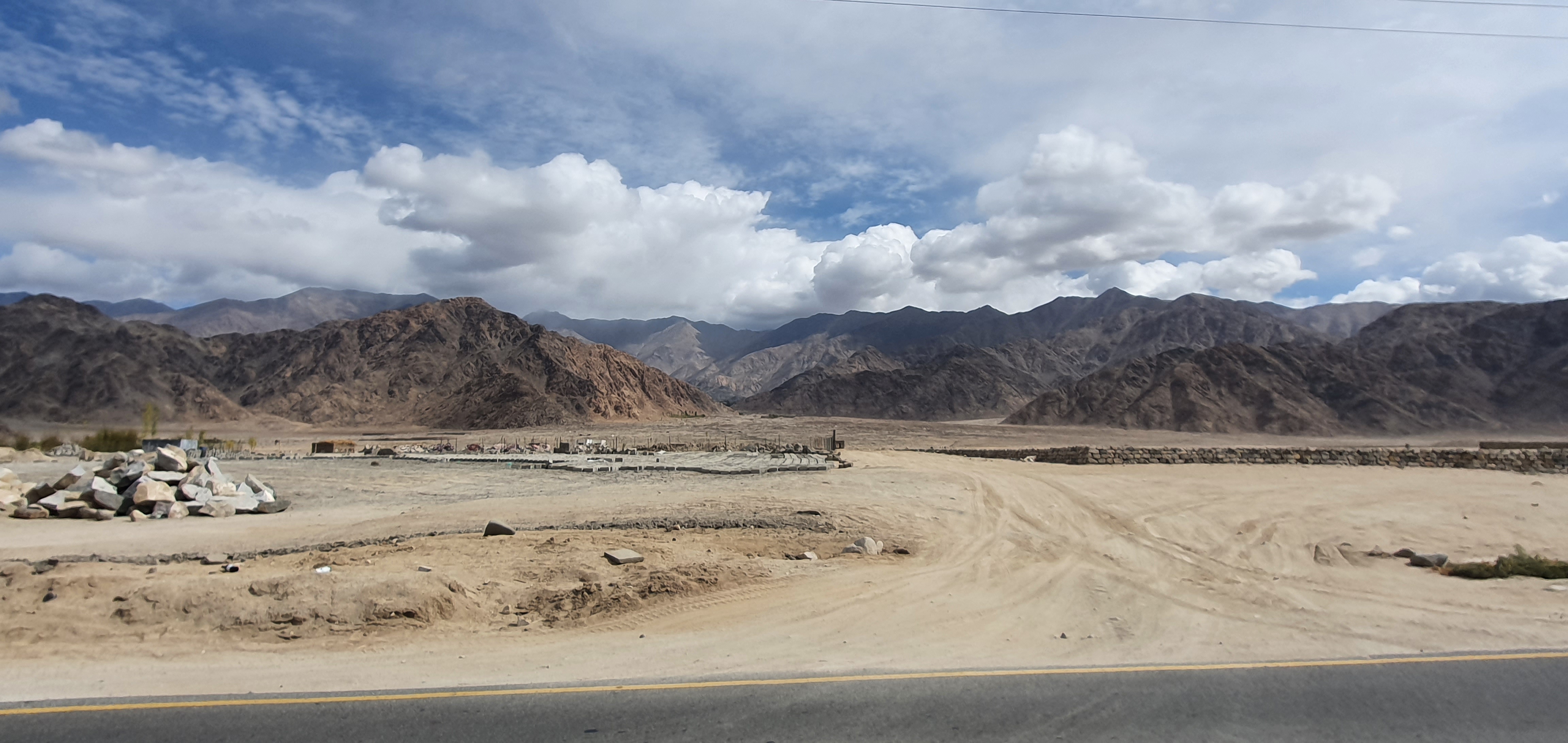 Khardung La - "Fuck Yes!"
After such an eventful ride, it only made sense to end the trip on a high note. Today, our objective was to cycle up to the Khardung Pass - the highest motorable road in the world at a mind-boggling 18,000+ feet.
The story at the start is indeed about the feat we conquered on this day! But now that you've read right until the end, here's a little secret confession:
I had tears in my eyes after reaching the Khardung La top. :)
We made recordings on goPro all throughout the trip. If you'd like to watch the video for a more real experience of my trip, click here and you'll be the first one to see it when it's ready! ❤️
And here are a few more images from the last day. The sense of pride on our faces says it all!